Career Opportunities
Swam Electric has an extensive range of electrical expertise! From wiring a single machine to a complete automated line, medium voltage pole distribution to line construction, Swam Electric's record of achievement is well known and spans for over 90 years. We specialize in commercial, industrial, and institutional services. Rest assured your project is designed and built to meet your exact standards.
Rely on our experienced electrical pros
Ensure your system is
always operating at peak performance with our standard and preventative maintenance contracts.
- Industrial
(food processing)
- Commercial
(retail and corporate offices)
- Institutional
(health care facilities, educational and governmental municipalities)
- Wire a single machine or a complete automated line
- Wire new and existing equipment
- Coordinate ARC flash studies
- Medium voltage pole and line construction
- Substation installation and maintenance
- Interior/exterior wiring
- Facility and equipment wiring
- Site light wiring
No job too big or too small. We can handle it!
Trust an electrical contractor with more than 90 years of experience! Call today for your electrical needs.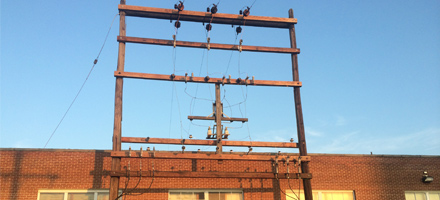 - We have approved MSHA employees.
- We have our MD Master Electrician License.
- We have a safety committee that is approved by the state of PA.
- We have an apprenticeship program through the Central PA Independent Electrical Contractors and HACC.
- We have our PA Home Improvement Contractor license # PA035473.
All our field employees are 10 hour OSHA trained and have background checks completed